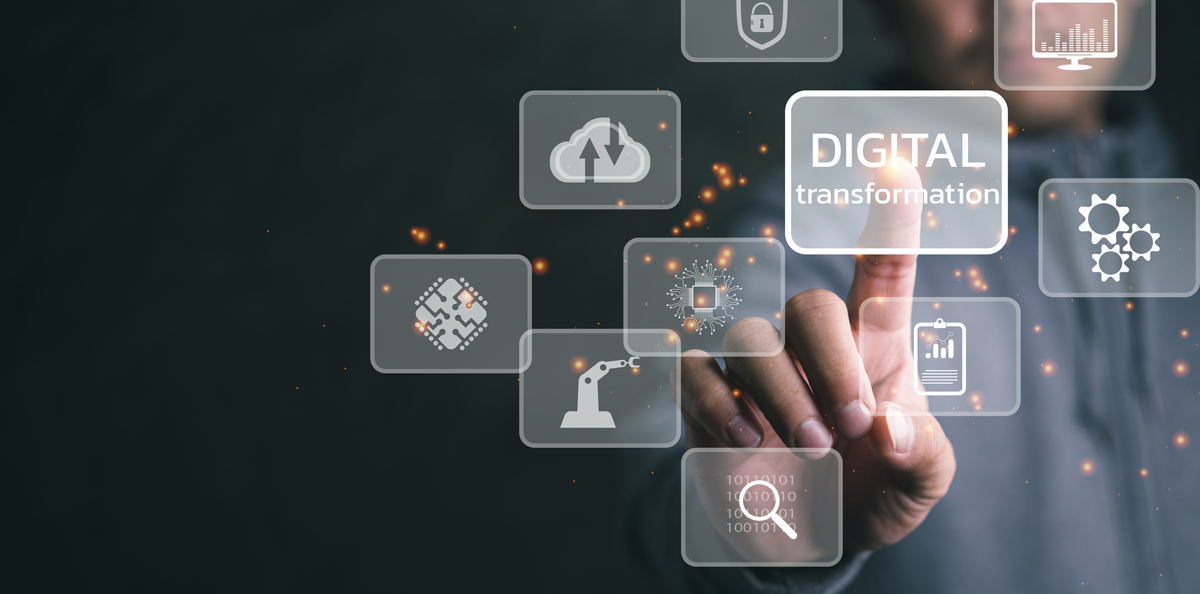 The infamous implementation of the modern assembly line by Henry Ford revolutionized industries across all sectors. It was the first encounter by financial leaders with the importance of embracing digital transformation. They realized that having a competitive advantage is vital to stay relevant and flourish in the increasingly competitive industrial landscape – and digital transformation provides that in excess. However, according to a survey by New Vantage Partners, of the 97.2% of organizations that invest in big data and AI projects, only 24% can identify themselves as data-driven.
This is a massive disadvantage as by streamlining processes and digitizing, organizations have access to real-time data highlighting potential opportunities and threats, providing organizations with actionable insights. Furthermore, increased quality, efficiency, and productivity across all departments are realized through streamlining operations and processes.
Organizations with smooth processes experience reduced strife and hostilities, further enhancing productivity and reducing risk – key factors that deliver imperative outcomes, like optimal financial results.
Leveraging AI to Optimize Operations
Technology has enhanced productivity and operations across all sectors and industries. The evolution of AI and the data emergence that it provides is a game-changer for organizations trying to leave their mark on the business world. 
AI can launch organizations to great heights, and even the most old-fashioned organizations have begun to embrace this concept.
An example of this is the agriculture industry. To optimize irrigation, the traditional method was to employ machinery and skilled personnel and then go with instincts. However, with the advanced data provided by AI, the agriculture sector has revolutionized and has positioned the organizations utilizing this key benefit to their advantage as industry leaders. 
Novel Processes and Techniques
Current data and AI technology have been critical in industries' success with complex transactions and processes. An example is the construction industry which requires volumes of materials and transactions involving subcontractors, including complex payments like retainage. 
These complicated procedures increase the risk of blunders with enormous consequences, especially when factoring in human error and the costs of handling these complex day-to-day transactions. A minor mishap can decrease efficiency and customer satisfaction, which is significant for organizations trying to make a name for themselves in the industry. Human error is eliminated by employing digital transformation for processes like accounts payable automation and Salesforce CRM, and substantial data are leveraged in a centralized platform that enables deeper insights. Thus, this transformation pays itself forward tenfold.
The hordes of data available from internal and external sources, like social media platforms, possess invaluable insights that get lost in the sheer volume of information. Collecting and presenting this crucial information, like demand forecasting, in a clear, concise manner, like charts and graphs, drives key improvements in business processes. Leveraging predictive analytics allows for efficient decision-making that is on-point. For example, workforce planning, ordering, and altering the product and services to evolve with the customer's priorities, making for a happy and brand-loyal customer base. 
These solutions bank on historical data and sophisticated machine learning algorithms to establish models that provide fact-based forecasts to drive efficient decision-making.
How to Implement Digital Transformation?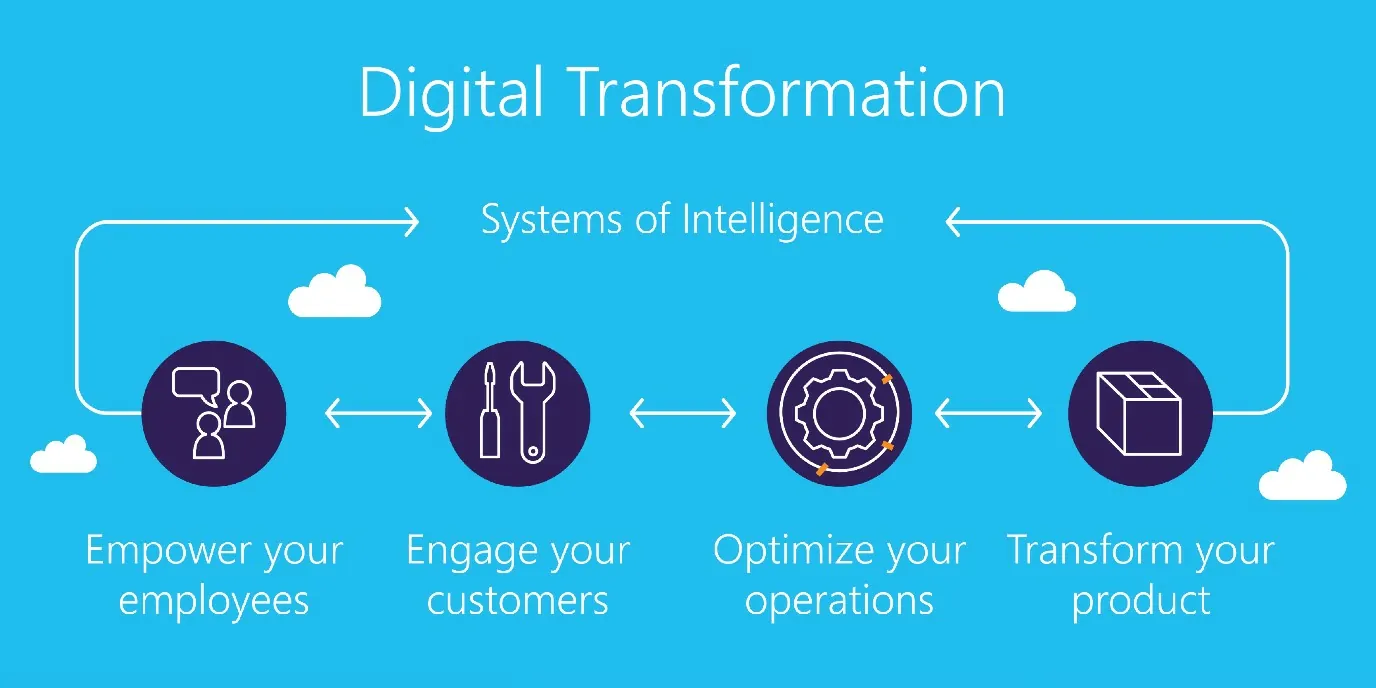 Before implementing the plan, successful organizations build a vision. This vision needs to be focused primarily on customer experience since satisfying the customers is the primary objective of any organization. However, besides customer experience, essential points to consider are:
● Organizational operations
● Business model of the organization
● Human aspect of the transition
When exploring the human element of digital transformation, the transition must involve the entire organization. Rather than going for fancy gimmicks, organizations that prioritize simplicity when deciding upon software reap higher benefits as amateur users also utilize these applications. 
Let's look at how re-envisioning organizational operations can make for a better digital transformation experience.
- Correlation of financial performance and supply chain
This is crucial for organizations whose financial performance is aligned with core operations and supply chain performance.
- Faster decision-making and cooperation
By reimaging operations, organizations focus on enhancing process visibility for quick decision-making, allowing the organization to take advantage of any opportunities, avoid any threats, and increase efficiency by reducing friction and having collaboration across the organization.
A great example of reimaging operations is Proctor and Gamble. By centering their strategy on operational excellence, they manage their business in real-time and evolve with the ever-fluctuating industrial dynamics. 
Operational visions are critical for organizations operating in the business-to-business market. This is because how organizational operations are handled has a domino effect on what customers do. 
Improved operations help others to move up the solution stack. Therefore, it is essential to implement an efficient digital transformation for success.
How Can Digital Transformation Revive Organizational Operations?
When done right, digital transformation contributes substantially to optimizing operations and revenue. According to a study by McKinsey, organizations whose financial leadership prioritized digital transformation made expectation-beating performance 1.5 times more likely.
Some of the ways it revolutionizes and influences how an organization operates include: 
Fewer Costs – More Output
By streamlining organizational operations, digital transformation enhances the speed and quality of operations. Additionally, decreasing the workforce and increasing remote work reduces high costs while being an incentive to attract valuable talent.    
By assisting in financial transformation, digitization mitigates human error. This, in turn, saves time spent on correcting mistakes and optimizes operations.
Favorable Production Volume
Digitization merges financial data across departments and encourages collaboration. This contributes to streamlining processes significantly, thus increasing efficiency and productivity.
Using Digital Transformation to Optimize Operations
For successful implementation, it is essential to first identify the specific organizational operations to optimize, for example, improving efficiency, reducing costs, enhancing customer experience, and increasing productivity. Having clear objectives is the basis for efficient digital transformation efforts.
Evaluating the current state
This includes assessing existing operations, processes, and technologies to identify areas that require improvement. It is vital to better understand pain points, bottlenecks, and inefficiencies. Conducting a thorough assessment provides insights into where digital transformation may have the most significant impact.
Identifying appropriate technologies
Organizations aiming for success conduct thorough research and identify digital technologies and solutions that align with organizational objectives and address the identified areas for improvement. For example, cloud computing, Internet of Things (IoT) devices, artificial intelligence, data analytics tools, and process automation platforms.
Developing a digital roadmap
Outline the steps and timeline for implementing digital transformation initiatives. Prioritize the initiatives based on their potential impact and feasibility. Consider integrating various technologies and the training and skill development requirements for employees.
Securing executive support and allocating resources
Obtain support from senior leadership and secure the necessary budget and resources for digital transformation initiatives. Digital transformation often requires investments in technology, infrastructure, software licenses, talent acquisition or upskilling, and change management efforts.
Implementing and integrating digital solutions
Begin implementing the chosen digital solutions in a phased approach. Test and refine the solutions as and when needed. Ensure that the solutions are integrated with existing systems and processes and that data can be seamlessly exchanged between different platforms.
Leveraging data-driven decision-making
Leverage data analytics and reporting tools to gather insights from operations. Monitor key performance indicators (KPIs) to track progress and identify areas for optimization. Use the data to make informed decisions and drive continuous improvement.
Fostering a culture of innovation
Encourage and support a culture of innovation and continuous improvement within the organization. Provide opportunities for employees to suggest ideas, experiment with new technologies, and contribute to the digital transformation process. Encourage collaboration and knowledge sharing.
Regularly review and monitor the impact of digital transformation initiatives. Solicit feedback from employees and stakeholders and make necessary adjustments to optimize outcomes. Digital transformation is an ongoing process, and adapting to changing technologies and market dynamics is essential.
Optimize Operations and Transform Products with Sirius Solutions
It is important to remember that digital transformation is not just about technology but also involves processes, culture, and mindset changes. It requires effective change management, stakeholder engagement, and ongoing communication to ensure successful implementation and optimization of operations.
With the years of experience of our expert team in providing an exceptional framework to implement a digital transformation, we provide our clients with actual, measurable results. 
Identify opportunities by leveraging data and AI that drive coveted business outcomes. Our team can provide growing organizations and startups with simple solutions and help with the proper implementation to realize the desired results.